9″ x 9″ 128 pages, First Edition hardback forthcoming Fall 2021, $60 retail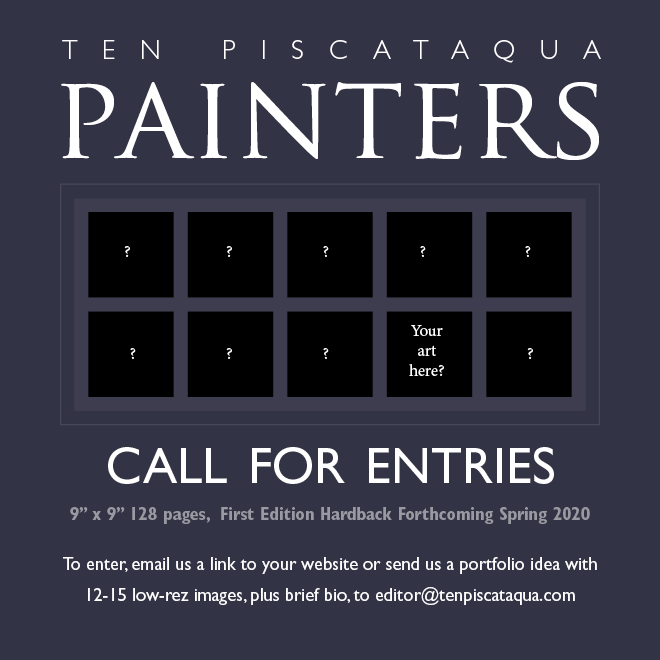 Call for Entry Guidelines
Anyone living and/or working in the Piscataqua watershed is welcome to submit a portfolio idea of their paintings for inclusion in the book. The region includes most of Strafford and Rockingham counties in New Hampshire (aka Seacoast NH), as well as the border towns of southern Maine
The simplest way to have your work considered is to send us a website link that shows us 15 to 20 images. If you also have images represented in galleries, social media, and other websites, we recommend including links to those as well. If you don't have online links to bring to our attention, we will also consider a pdf attached to your email with 15 to 20 portfolio images, or attach a folder containing low-resolution jpg or png files (low resolution here means neither dimension is more than 1000 pixels). Make sure you label the folder (or pdf) with your full name. We will not publish any image you send without permission. Please also provide a brief bio, including what town you live in. Please do not submit images that you are not the copyright owner of.
We are not choosing 10 painters at once, rather more like one a month over the next ten months. Submissions that aren't chosen for the 1st portfolio slot are still in the running for the 10th. The best way to follow the book's progress, to watch the book come together one painter at a time, we recommend subscribing to our monthly news email.
Painters chosen to participate in the book are not paid anything in advance but receive a percentage of the book's net profit 1 year after publication, and thereafter annually for as long as the book remains in print.
Address all portfolio submissions to: editor@tenpiscataqua.com
Crowdfunding
As the artists and creative professionals invest their time and talent into editing, producing, and marketing the book, we reach out to the community to find arts-friendly individuals, businesses, and organization to back our idea of bringing local artists to the attention of the community, one coffee table book at a time.
Community backers provide the initial funds to get the book on press, mostly by ordering advance copies for a $50 donation, as well as other rewards for different donation amount, not unlike how public TV and radio is supported by their communities, only we give you something better than a mug. Backers choose rewards they'd like to receive for their donations, such as how many copies of the book they'd like shipped to them as soon as it comes off press, or how they'd like their support to be recognized. Once we reach our crowdfunding target of $8000 in pledges, we've passed the breakeven point and profits accumulate to be shared among all the stakeholders  we can start putting money in the accounts of the artists and creative professionals who have earned shares in the project. 
Crowdfunding donations can be simple donations, or they can be for rewards for items of certain value. For this book a $10 donation gets your name recognized on our website as one of our founding backers, while a donation of $50 or more also rewards backers with a 1st edition copy of the book shipped to them as soon as it comes off press (retail copies will be $60). Patrons donating $500 or more are recognized for all time on the last page of the book.
We're still working out the details, but we expect to offer the crowdfunding rewards for Ten Piscataqua Painters in late May of 2021.