Ten Piscataqua Painters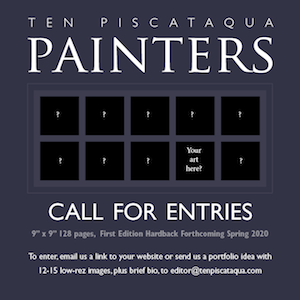 We'll be announcing the first painter and portfolio chosen for the book shortly, meanwhile our Call for Entries will remain open until the end of 2019. We aren't choosing all 10 artists at once and everyone who has entered so far is still under consideration until the last portfolio is chosen.
We are also actively recruiting a production and marketing crew for the book. In particular we need an arts writer to interview and introduce the ten artists in the book, a videographer to create short clips of the artists at their studios, a book designer, publishing intern, among other production and marketing gigs. Ten Piscataqua Painters will be published in the fall of 2020.
---
Ten Piscataqua Photographers
First Edition hardback copies of the first in our coffee table book series showcasing and celebrating the portfolios of ten outstanding regional fine art photographers are available online in our shop for $60 (free shipping), or from our Amazon.com listing, and can also be found at the following retail locations:


Kennedy Gallery, Market St, Portsmouth
Book and Bar, Pleasant St., Portsmouth
RiverRun BookStore, Daniel St., Portsmouth
Local Color Market, Rt 1A Portsmouth (next to the Golden Egg)
Water Street Bookstore, downtown Exeter
Riverstones Custom Framing, North Main St., downtown Rochester
A Freethinker's Corner, Central Ave., downtown Dover