Discover and support local genius!
We're very pleased to announce that we've passed our crowdfunding goal for the 2nd coffee table artbook, Ten Piscataqua Painters, meaning it can go on press in the next week or so. Crowdfunding remains open and funds raised beyond our breakeven point starts to mean we'll be able to put some money in the pockets of the painters and creative professionals who've invested so much to make this book happen.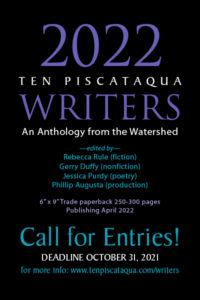 The Call for Entries for our our newest project, a paperback anthology called Ten Piscataqua Writers 2022, is open until Hallowe'en 2021. Piscataqua region writers can send us a chapter's worth (15-30pp) of their writing, that is an excerpt from a larger work such as a novel or biography, a complete work such as an essay or sahort story, or a collection of short works such as a collection of flash fiction or a chapbook of short poems. Writers selected will be announced mid-November, crowdfunding will begin in the New Year, and we expect this book to become available in April 2022.  
Three ways you can support our community arts publishing projects
Pre-order your First Edition copy at a discount, or donate on either project's crowdfunding page.
Subscribe to our newsletter to follow the progress of our projects celebrating local genius. 
Join our team of creative professionals working to publish and market the book, we profitshare!
You can find the 1st coffee table book in our series, Ten Piscataqua Photographers, in our online shop (free shipping), or by supporting one of our local retailers.