Ten Piscataqua Painters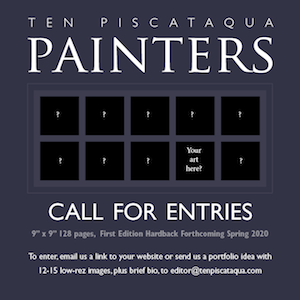 With the success of our first, we're pleased to announce the second in our series of coffee table books: Ten Piscataqua Painters which is to be published Summer 2020. This time we're reaching into the community with a CALL FOR ENTRIES!
---

Ten Piscataqua Photographers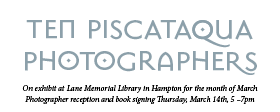 Our show will be up at Lane Memorial Library (link on photography page) in Hampton all of March, with a book signing event Thursday March 14th, 5-7pm. Come meet this terrific cast of outstanding regional photographers and get your copy of the coffee table book signed.

First Edition hardbacks are available online in our shop for $60 (free shipping), or from our Amazon.com listing, or at the following retail locations which we are just now building out.
Kennedy Gallery, Market St, Portsmouth
Book and Bar, Pleasant St., Portsmouth
RiverRun BookStore, Daniel St., Portsmouth
Local Color Market, Rt 1A Portsmouth (next to the Golden Egg)
Water Street Bookstore, downtown Exeter
Also in the news Ten Piscataqua Photogragrapher Charter Weeks is offering an assignment based Workshop called "The Eyes Have It" on four consecutive Saturdays: April 6, 13, 20, & 27, 10:00 am to 3:00 pm in Barrington NH. For more info visit: https://charterweeks.wordpress.com/workshops/