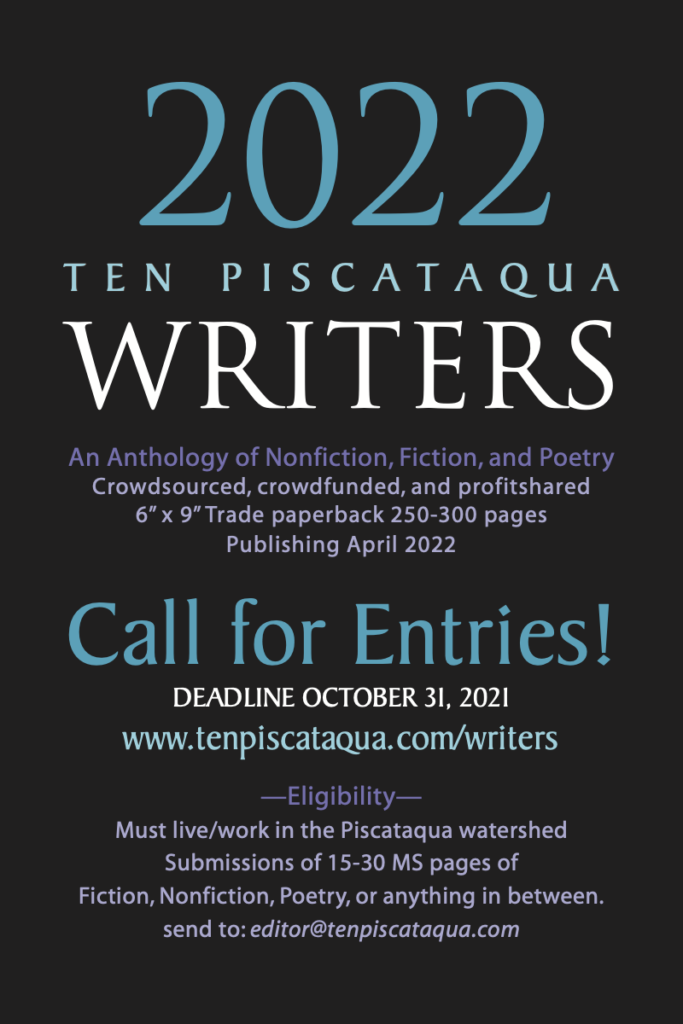 Call for Entries
Ten Piscataqua Writers 2022
An Anthology from the Watershed
6″ x 9″ 240–300 pp. Trade Paperback
Forthcoming April, 2022
Tentative pricing $20 per copy crowdfunded, and $25 retail after crowdfunding.
Most anthologies are a collection of different writers all working in and exploring a particular form. A collection of essays for example, or short stories, or poems. Our anthology is built around a different idea, showcasing a collection of outstanding local writers, both established and emerging talents, working in a variety of forms. In other words, not the "best 10 writers" but rather a diverse sampling of writers we believe the regional community should know about. With any success, we hope to be able to provide a historical snapshot on the state of writing in the region on an annual basis. 
Eligibility to submit a work 
• Authors must reside within the Piscataqua River watershed, which includes all of Great Bay and its many tributaries.
• The author must be the sole copyright owner of the work submitted.
• The manuscript submitted must be roughly between 15 and 30 pages long (maximum 10,000 words). 
• We are only considering entries from one writer. A writer may conceivably be a nom de plume or pen name for two or more authors. Only one writer is credited as author. 
Examples of what we're looking to include (but not limited to):
• Fiction, a collection of flash fiction, an excerpt from a novel, one or more short stories . . . Three chapters of fiction are being edited by Rebecca Rule of Northwood.
• Nonfiction, history, biography, epistolary exchange, one or more essays . . . Three chapters of nonfiction are being edited by Gerry Duffy of Portsmouth.
• Poetry, a chapbook of short poems, an album of songs, sonnets, epic . . . We have not found our poetry editor yet, if you are an active and established member of the poetry community in the region, and are interested in editing entries this summer and fall, use the email link below to inquire.
To prepare an entry, we prefer you provide us with a brief introduction about yourself as a writer, including the name of the town you live in, and a separate brief description of your entry, including its suggested title. Then attach your entry in a separate text file using a common file format such as .pdf, .txt, .rtf, .doc or .docx.
We encourage writers to conceive of their entry as a package or chapter. A chapter may include one piece or a collection. For example, in a collection of 7 pieces of Flash Fiction, each piece will have its own title, however the collection as a whole must also have a title (subtitles are allowed) for the chapter opening page, and for the purpose of promoting the writer. Same goes for other collections, such as a group of short essays, a chapbook of poems, or an album of songs. Don't send us a pile of random pieces and expect us to pick and choose. We reserve the right to change your suggested title and/or subtitle if your chapter is accepted.
Entry deadline is October 31, 2021 (Hallowe'en),
We also encourage writers to submit entries early, a number of them will be selected before the deadline closes, rather than all at once afterward. All entries remain under consideration until the deadline. Writers may submit up to three entries, but to avoid confusion, each entry of 15 to 30 pages should be submitted in a separate email as described above. 
Don't expect to hear back from us unless your work is chosen. We are not a big publishing house and will not be sending out rejection notices after the deadline. Please don't pepper us with emails about your entry. Your submission will be assigned to an appropriate editor to review shortly after we receive it.
The 10 writers selected will be announced in early November 2021. Crowdfunding for the book will open soon after as the book enters production and continue into March 2022, with the book expected to publish in April 2022.

Please submit all entries to: editor@tenpiscataqua.com
The best way to follow the progress of our projects is by Subscribing to our newsletter.
The Deal
Writers are not paid in advance. Instead they become significant stakeholders and earn a share of the book's net profit. First we must reach the breakeven target to pay for printing, manufacturing, and other upfront costs.
After that point, money starts accumulating for everyone participating in the project. The ten writers share 1/3 of the net profit or 3.33% each. The second 1/3 of the book's net profit is divvied between the crew of elves investing their time and talent to edit, produce, and market the book, and the final third goes to Ten Piscataqua for providing continuity, an office presence, and storage. This way, everyone involved in making the book a reality, earns a share in its success. 
There are other commitments involved for selected writers. These include participating in the crowdfunding of the book early in 2022, as well as participating in a number of readings and book signings in the year following April publication. More specific details will be presented to the writer upon an invitation to include their work.