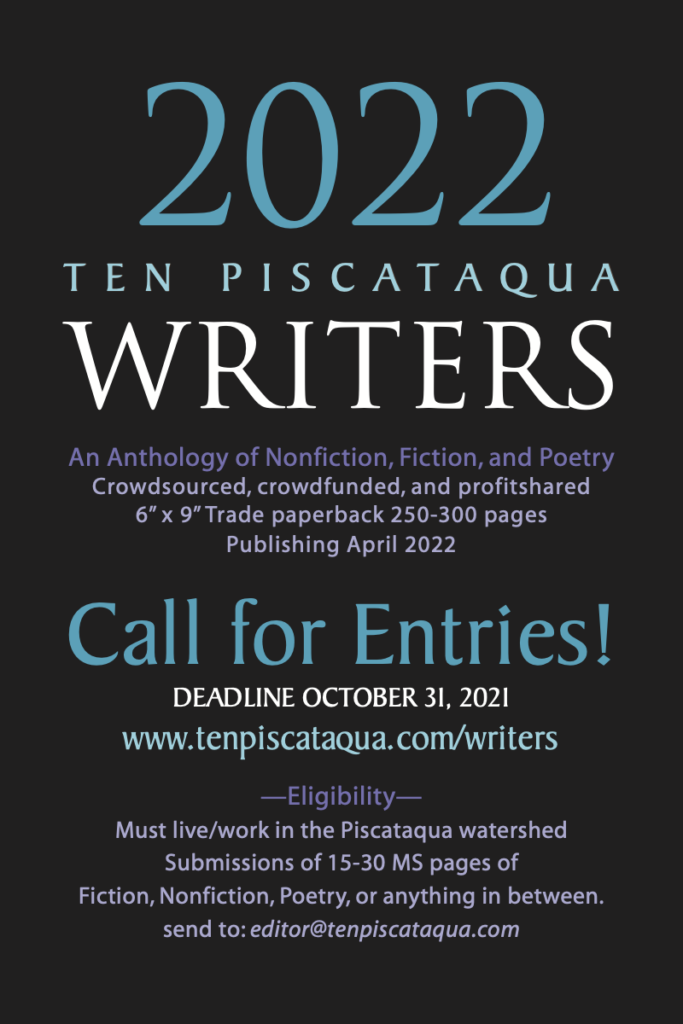 Call

for Entries
Ten Piscataqua Writers 2022
An Anthology from the Watershed
6″ x 9″ 240–300 pp. Trade Paperback
Forthcoming April, 2022
Tentative pricing $20 per copy crowdfunded, and $25 retail after crowdfunding, plus a more expensive signed-by-the editors and writers "Collector's Edition" (crowdfunding only).
Most anthologies are a collection of different writers all working in and exploring a particular form. A collection of essays for example, or short stories, or poems. Our anthology is built around a different idea, showcasing a collection of outstanding local writers, both established and emerging talents, working in a variety of forms. In other words, not the "best 10 writers" but rather a diverse sampling of writers we believe the regional community should know about. With any success, we hope to be able to provide a historical snapshot on the state of writing in the region on an annual basis.
Eligibility
Authors must reside within the Piscataqua River watershed which includes all of Great Bay and its many tributaries. (see map)
Authors must be the sole copyright owner of the work submitted.
The manuscript submitted must be roughly between 15 and 30 pages long (maximum 10,000 words).
We are only considering entries from one writer (a "writer" may conceivably be the nom de plume or pen name for two or more authors).
Previously published works are acceptable provided all necessary permissions are included with the entry.
To prepare an entry
We are looking to showcase local genius in writing from around the region in ten chapters of 15 to 30 pages each. Each entry accepted will become one of ten chapters. A writer's entry might be an excerpt from a larger work. Other entries might be a single complete work such as a short story, or essay. In other chapters, writers exploring shorter forms such as poetry, flash fiction, or op-eds, can still use up to 30 pages to present a collection. Collections of shorter works by one writer should have a title for the collection, as well as titles for the individual pieces.
Prepare your entry with your name at the top, in a single text file using a common file format such as .pdf, .txt, .rtf, .doc or .docx. Attach the entry file to an email as described below.
Examples of writing we're looking to include (but not limited to):
Fiction, including but not limited to a single short story, several short short stories, a collection of flash fiction, an excerpt from a novel, an epistolary exchange . . . Works of fiction are being edited by Rebecca Rule of Northwood.
Nonfiction, including but not limited to history, biography, memoir, opinion, travel, one or more essays . . . Works of nonfiction are being edited by Gerry Duffy of Portsmouth.
Poetry, including but not limited to a chapbook of short poems, sonnets, epic, an album's worth of songwriting . . . Works of poetry are being edited by author Jessica Purdy of Exeter.
With your entry file attached, please provide us with a brief introduction (paragraph) of yourself as a writer in your email, including the name of the town you live in, and then a separate brief description (paragraph) describing your entry. Please include only one entry per email. Writers may submit up to 3 separate entries.
Please do not include any art (illustrations, photos, charts, maps, etc.) in your entry that you are not the copyright owner of. Graphic fiction such as comic book material from a single author is eligible so long as it can be reproduced in B&W.
Entry deadline is October 31, 2021 (this coming Hallowe'en)

Please email all entries to: editor@tenpiscataqua.com
Don't expect to hear back from us unless your work is chosen in November. We are not a big publishing house and will not be sending out rejection notices after the deadline. Please don't pepper us with emails about your entry. You may submit up to 3 entries up until the deadline.
The 10 writers selected will be announced in early to mid November 2021. After the selections have been made and the writers have agreed to our standard deal (see below). The best way to follow the progress of the book is by subscribing to our newsletter, and to follow us on the social media links in the upper right corner of this page.
The Profitsharing Deal
All ten writers get the exact same terms regarding permission and royalties as described below. Nobody gets special treatment or status. We seek only "non-exclusive" permission for the life of the book, meaning authors retain every part of their copyright and reserve all their rights to republish the work wherever and however they choose.
To be clear, writers chosen are not paid an advance. Instead they become stakeholders and earn a share of the book's net profit in the form of a royalty. First we must reach the crowdfunding target to pay for printing, binding, shipping and other upfront costs—that's the breakeven part. Ideally we want to crowdfund much more than that so we can pay writers and crew for their time and talent. One year after publication is when the first royalty checks are written, and annually thereafter so long as the title remains in print. No one should expect to get rich, this is a new idea and not likely to be very profitable in its first few years. On the other hand there's also that viral thing that sometimes happens.
Net profit for a book's first year is divvied in the following way. The ten writers share 1/3 of the net profit equally, which comes to a royalty of 3.33% each. The second third of the book's net profit is divvied unequally between the crew of elves investing their time and talent—the editors, designers, marketers, social media folks, and so on. The final third remains with Ten Piscataqua for providing an office and storage and continuity. That way, everyone involved in making the book happen, earns a fair share in its success.
There are a few other commitments prospective writers should know about. These include a 2-3 hr interview in November or December for us to collect biographic info, photos, and video clips that we can use to promote the ten writers in our crowdfunding campaign which begins in the New Year and runs until mid-March.
Starting in the New Year, we expect all the collaborating cast and crew to forward emailed newsletters to folks in their network so that their people are aware of the project. As well as "like," "comment," and "share" our crowdfunding posts in social media on the platforms they participate in as convenient.
After the book is off press, a certain quantity of books will circulate among the writers to collect their signatures for the more expensive "Collector's Edition" that we'll take orders for during crowdfunding (all the book's collaborators receive one of these free). Writers are also eligible to purchase copies after publication at the best wholesale price for as long as we have copies.Writers chosen will also be expected to participate in up to 4 readings and book signings in the year following publication. More specific details will be presented to invited writers in November.
*** A second third of the book's profits are shared among the editing, production, and marketing team. For this title we are currently seeking a publishing intern, book designer, social media admins, advance publicist, event planner, and others. Check out the Gigs page for more info. The positions listed there for the Painters book are similar to what we'll be seeking for Writers.